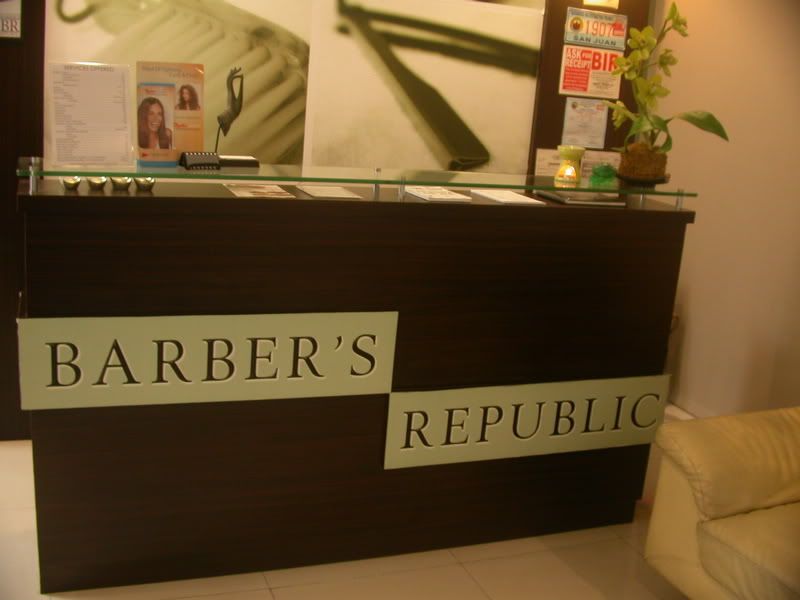 Some years back when my dad was still here in the Philippines, I remember him saying that one thing that he had to do before returning to Fresno, California is that of having a haircut. This line of service is said to be expensive there, and even if the dollar to the peso conversion were to be considered, it would still be feasible to have it done here in the Philippines. This was seconded by a friend of mine who also goes back and forth to Melbourne, Canada. My thinking was why is this so? Perhaps the level of service was a whole lot different, but taking everything into consideration, a haircut is still a haircut so what could perhaps be the difference aside from using a pair of scissors or an electronic shaver to have the job done?
Anyway, I went for my own monthly haircut at Barber's Republic today. My friend owns the place and they are the sponsor for our basketball team which is currently participating in the De La Salle Alumni Basketball League. Checking out the place to help my friend on how to jack up their profits, I noticed some services on their menu which were underutilized. So I immediately gathered my wits and thought of various ways to help in the marketing of the place and put these services into good use. Check out these services:
Haircut : Php 110.00/ $2.20
Hair Dye: Php 380.00/ $ 7.60
Foot Spa with Pedicure: Php 300.00/ $6.00
Full Body Massage: Php 300.00/ $6.00
Shave: Php 90.00/ $ 1.80
 
Another thing I noticed is that while the shop is catering to both men and women, the environment really gives an impression catered to the males. One suggestion I gave was to make the female related services featured in a way so that women can realize that this shop is not solely for the men. The ambiance is quite relaxing and holds a classy atmosphere that most people can consider as tidy and neat.
But on its 2nd year, this place will still reach places. Considering that the location is perhaps hard to find due to nearby private zoning, give it some more time and it will evidently become one of the landmarks in the vicinity of Greenhills, San Juan Philippines.
Links and References:
Originally posted on September 12, 2006 @ 9:31 am
Business